Hi, everybody! If you remember how I used to post
Dissidia screencaps
, I'm back this time with screens from Duodecim! I already have a bunch of screens that I've uploaded, so feel free to snag them and do whatever you want with them.
Updated
:
3/24 ~ Cloud (Kingdom Hearts DLC), Golbez (Man in Black), Prishe (Magna Top), Ultimecia & Laguna (Edea and Soldier alts.), Bartz (Freelancer), Vaan & Terra (Narshean Princess alt.)
3/07 ~ Kain (Hooded Man alt.), Yuna & Tidus, Tifa & Cloud (Advent Children alts.)
3/05 ~ Gabranth (Basch alt.) & Prishe, Firion (3rd alt.) & Gilgamesh
Screencap size: 480x272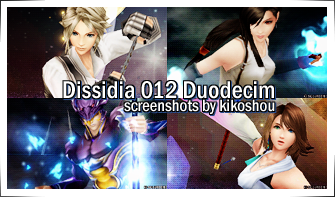 - Comments are nice, they make me happy. :)
- No credit is needed since they're just screens.
Requests are currently:
Closed.
01. Squall (Steely Blade)
02. Cecil (Regular/Second alt)
03. Gilgamesh (FF8 Guardian Force)
04. Kain (The After Years)
05. Zidane (Knights of Pluto)
06. Kuja